Food-kit leaders Woop have been recognised for their super star growth trajectory. After smashing their targets in a competitive market, they were awarded the top award at the Westpac Auckland Business Awards in the Central region.
Woop was named Supreme Business Excellence winner at the Central Gala dinner last month, after showing incredible commitment and innovation.
The story behind the company's progress to the top has been told through their journey over the past few years through the Awards programme.
They won Best Emerging Business in 2017, both in the Central Region and at Best of the Best – winning against businesses from the North & West and South & East regions. They did the same again for Excellence in Marketing in 2019. That same year, they were Central finalists in Excellence in Customer Service Delivery and Excellence in Strategy and Planning.
The team also took out the Excellence in Strategy and Planning category last month, alongside the big win.
The Awards programme are powered by the Auckland Business Chamber, and Woop have been entering every year since their inception in 2016.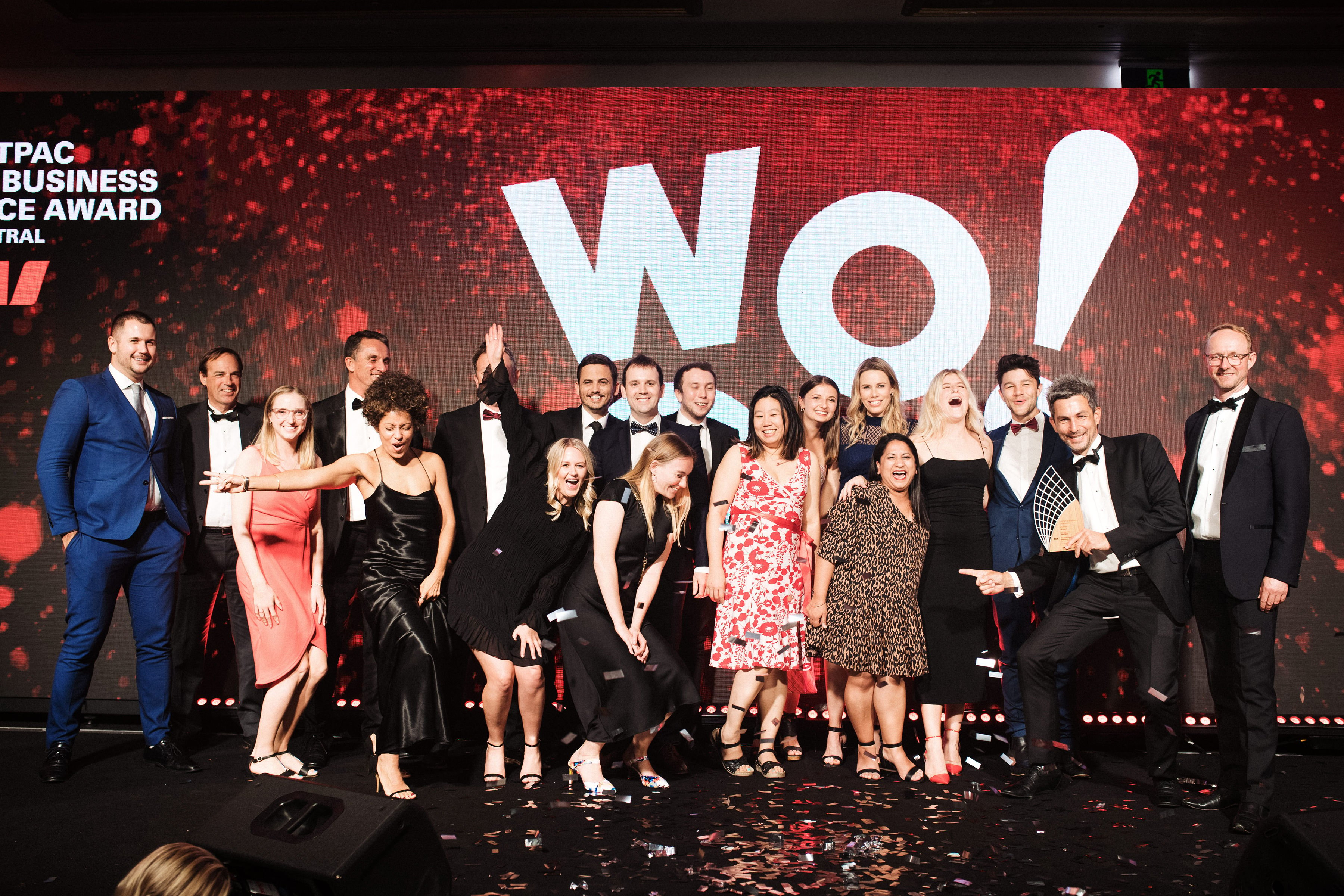 Woop has been the fastest growing Retail or Consumer Products Business on the Deloitte Fast 50 Index for the last two years.
Growth in 2020 has been even faster. When Covid-19 hit New Zealand, it created increased demand for tasty, healthy food at home. We had no other choice than to cook at home and food focus was magnified.
THRIVE & SURVIVE
Woop responded with a 'Thrive and Survive' business strategy, bringing in an external strategy consultant.
"We held strategy meetings every week with daily follow ups to focus on how we could make sure that by delivering a lot more food boxes we didn't let down any customers" says Woop founder Thomas Dietz.
Woop doubled the size of its business in the space of three weeks, hired 39 new staff including 12 out of work airline cabin crew, and doubled their shifts from one to two a day.
"We really wanted to make sure we were treating our customers as well as we could, and started to think about adding more value," Dietz says.
The Woop team responded by offering cocktail masterclasses, including kits to make cocktails, and streaming a Facebook live cocktail experience. For kids and adults alike there were baking kits, entertainments books and surprise treats every week.
However, the situation also created new challenges for the Woop team. "There was lots of pressure on health and safety," says Dietz. "We were asking staff to turn up to work, to leave their home bubble and that was a pretty strong commitment for them.
"We didn't know what Covid was and wanted to make sure we had all the right safety procedures in place. We hired two health and safety managers for each shift and were doing everything we could to make sure our team and customers were kept safe."
In the midst of the completely unexpected environment, Woop also launched a new range of vegetarian meals. "We really tapped into an interesting market – it usually takes quite bit of time to prepare vegetarian meals and the quick uptake has seen us sell three times more vegetarian boxes than we were forecasting."
Woop's ingredients are pre-chopped, sauces are freshly made, and vegetables and meat are part cooked if necessary. Most of the work is done, but the end result is still an authentic home-made meal with flavours from around the world. A far cry from New Zealanders 'meat and potatoes' preferences of a few years ago.
SUSTAINABILITY AND GIVING BACK
Woop has also made huge inroads in its sustainability practices. This year they became the only food delivery company in New Zealand to offer a pick-up service for all of their packaging, which is 100% recyclable.
The gel-cool packs are sanitised and re-used. The remaining packaging is used by FuturePost to be recycled into fence posts, which are used by The Department of Conservation and are proving strong and long lasting.
Food waste is also reduced as customers are delivered exactly what they need to cook. Woop has given customers the option to swap one recipe for another, replacing the previous set menu.
"We want to continue delivering more value, helping people live their best life.  It's not just a marketing story, we get daily feedback that we are really doing that," says Dietz.
This Christmas, staff will again personally deliver 1,000 meals to people who need them, doubling how many they delivered last Christmas.
Customers and community centres nominate families they think need help.
The team also support the Auckland City Mission and Kiwi Harvest, on a weekly basis, by donating ingredients for their outreach.
They regularly donate Gift Vouchers for Woop food boxes for charities such as Ronald McDonald House, and purchased 100 café/restaurants vouchers during lock down to support local businesses who couldn't trade in April and May. These were passed on to customers who nominated a local hero in their community who deserved a treat.
It's clear Woop are on a trajectory of growth and we can't wait to see what heights they achieve in 2021.
They will be heading to the Westpac Auckland Business Awards Best of the Best Gala next year, up for more awards against the other region's winners from this year's awards programme.