Many New Zealanders' perception of waste management is of piled up landfills hounded by circling seagulls!
The reality, as highlighted by Waste Management winning the Supreme Business Excellence Award at the Westpac Auckland Business Awards 2020 – South & East region, is far different.
The industry now includes electric trucks, 95% of landfill gas is being captured and converted to electricity and end of life tyres are recycled into fuel to make concrete.
Waste Management NZ Limited, New Zealand's leading resource recovery, recycling and waste management provider, has been changing the game for years under the radar, but things have really taken off in the last few years. The team was also the deserving winners of the Excellence in Innovation category last month.
Remarkably, it is the first time Waste Management has entered the Awards, a programme powered by the Auckland Business Chamber which saw over 700 entrants this year.
Waste Management is a world leader in sustainability and has been working to reduce carbon emissions for 20 years.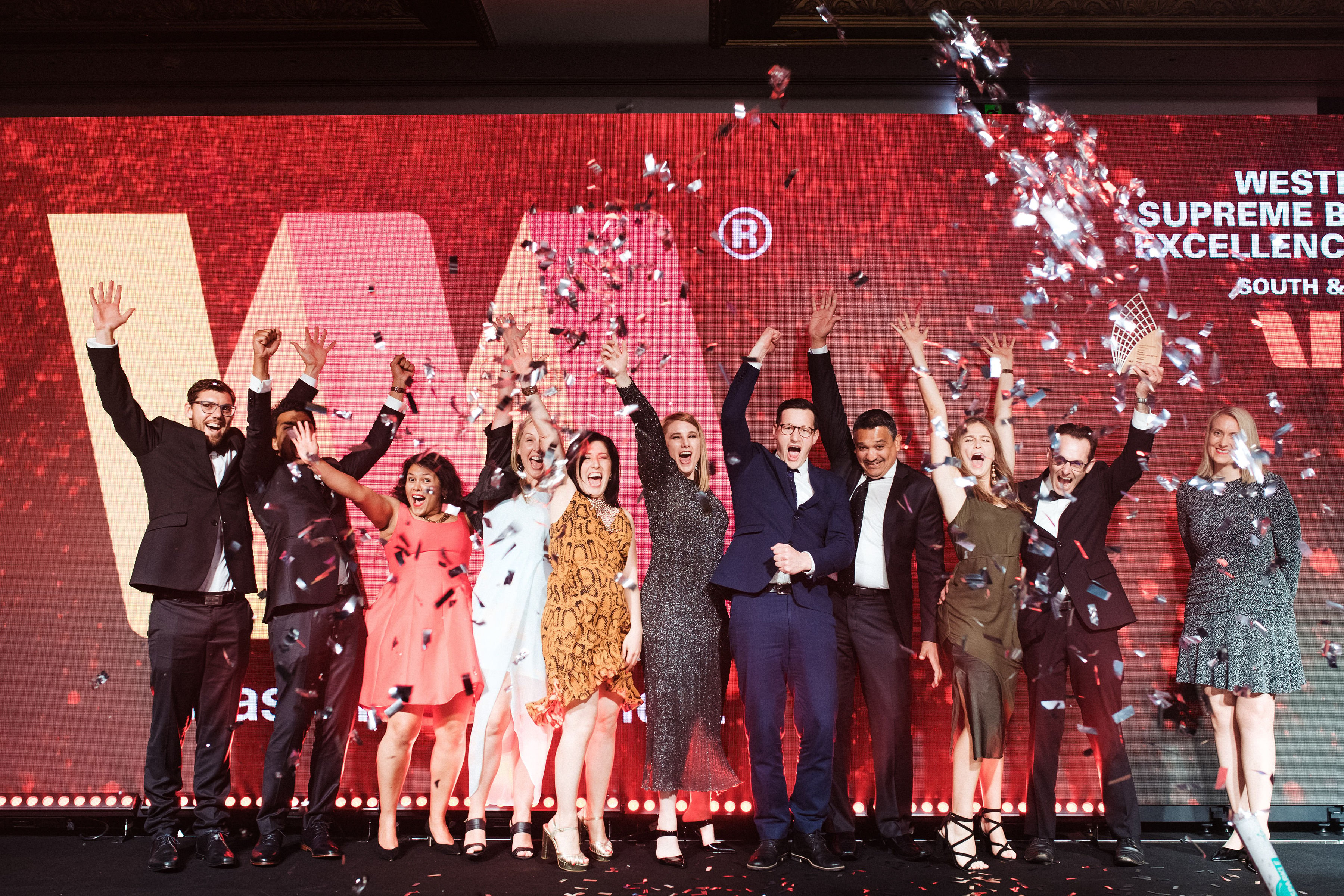 FOR FUTURE GENERATIONS
Waste Management launched their formalised sustainability strategy, For Future Generations, in 2018. The following year they set a sector benchmark for carbon reduction when they became the first in the New Zealand waste industry to achieve independent certification for managing and reducing greenhouse gas emissions.
"We believe climate change is the biggest challenge being faced by New Zealanders and the world. We know we have to be part of the solution and we have acted and will continue to act to address our climate impacts," says Marsha Cadman, Waste Management's General Manager Strategy, Customer & Sustainability.
Waste Management has a host of examples of where they are leading and making a difference.
Most of their greenhouse gas emissions come from the waste collected from communities and disposed of at landfills. To counter this, the company captures and converts an average of 95% of landfill gas to electricity, powering the equivalent of 23,000 homes in 2019. Its Redvale Landfill & Energy Park, for example, is Auckland's largest renewable energy generator. Without proper management in a modern, engineered landfill, decomposing waste would release greenhouse gas directly into the atmosphere.
Another example is when the company took over the Tirohia Landfill & Energy Park in the Waikato three years ago. At the time just 30% of methane was being captured and destroyed. Thanks to design innovation, efficiencies and investment in equipment, the team is now successfully capturing 90% of all methane gas, with the capacity to convert this into energy to feed into the national grid.
THE EMERGENCE OF ELECTRIC TRUCKS
Waste Management was one of the first in the industry to introduce 100% plug-in electric trucks and will now have 20 by the end of the year. "We started off importing converted combustion trucks, but are now able to convert trucks that are capable of doing up to 250km a dayFrom the data we have collected, one electric truck saves about 125 litres of diesel per day," says Cadman.
The company plans to keep increasing the number of electric trucks and, with a total fleet of over 800, expect to make a significant emissions reduction impact.
Waste Management opened NZ's largest tyre recycling plant in Wiri in 2018, capable of shredding around three million end-of-life tyres per year. This processing facility provides a local solution for these tyres, with the shredded material being supplied for re-use in manufacturing as tyre derived fuel (TDF), reducing waste stockpiling and turning a discarded resource into energy.
When it came to building their Auckland headquarters in East Tamaki in 2019, which houses 400 team members, the challenge to build sustainably was exciting. The site has a calculated 50% reduction in greenhouse gas emissions relative to a benchmark building.
"When we built the facility we had a once in a lifetime opportunity to leave a low footprint and we are very proud of what we achieved," says Cadman.
During the build 99.5% of demo waste and 76% of construction waste was recycled.
The build also included installation of seven 25,000 litre rain harvesting tanks to see out their operations – this is sufficient water for 43 days with no rain, or enough water to wash 17,500 wheelie bins.
COMMUNITY CONTRIBUTION
Out in the community Waste Management also plays a lasting role.
They helped sponsor the supply of 14 ambulances into rural NZ, provide Living Earth plant mix to the Motutapu Restoration Trust and distributed educational storybooks about waste to every kindy, primary and intermediate school in NZ.
"We are on a really interesting journey," says Cadman. "There has been a significant shift in the way the public thinks about waste and recycling. We now need to play a more active role in helping businesses and the community understand what they need to do. There is a big role for government as well, and we are pleased to be working with them on that."
Waste Management will be heading to the Westpac Auckland Business Awards Best of the Best Gala next year, up for more awards against the other region's winners from this year's awards programme.