It could safely be said that not many businesses entered lockdown as spectacularly as Skydive Auckland. Their staff jumped into Waiheke Island for the day!
It was the last day of work before New Zealand's first lockdown in March. "As uncertain as the lockdown was, it was great to end on such a high note," says Skydive Auckland's Marketing Manager Jo Austin.
It is part of Skydive Auckland's ethos to keep things fun and one of the many factors that led them to a fantastic night out at the Westpac Auckland Business Awards 2020 for the North & West Region last month. The Awards are powered by the Auckland Business Chamber and Skydive have been entering for three year. This year was no different with determination and fun still on the cards as they embarked on another Awards journey. It paid off, as they took out the Supreme Business Excellence Award.
They also walked away with the Excellence in Marketing Award and were finalists in three further categories – Excellence in Strategy & Planning and Excellence in Community Contribution, and Employer of the Year, staking a claim as one of the best in the market across all areas of business.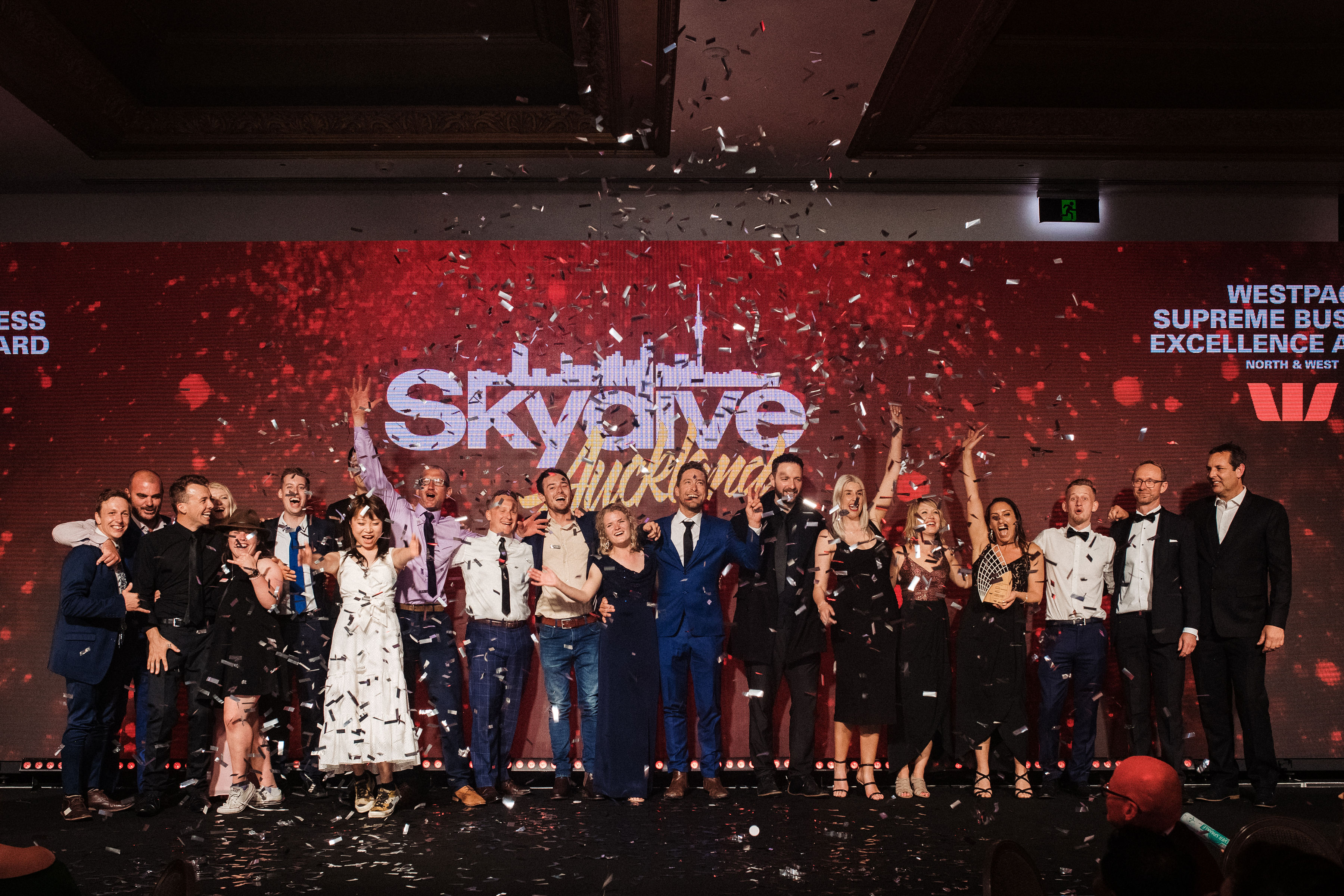 The jump into Waiheke for staff and some customers was partly marketing, partly a reward for staff. In a business like skydiving it isn't hard to keep things fun.
Skydive Auckland has experienced growth, even during a year as challenging as 2020, when the Chinese market cut off around last Christmas. Deciding to enter the Awards again wasn't a hard decision to make. Entering gives companies the chance to benchmark themselves, reflect on their strengths and refine their plans for the future.
"Our marketing plan includes strategies for growth, but we also always want provide a personal experience, we want to grow but make sure we stay who we are."
Who they are and what they stand for is, is resonating with customers. Trip Advisor rates them as #1 of 228 tours offered in Central Auckland – an incredible feat!
Jo manages the responses on Trip Advisor. "It is actually a pleasure," she says. "There are so many five-star reviews. It's lovely hearing the feedback and we make sure our team hear it too by bringing it up in our meetings, highlighting whose been mentioned."

THE 20,000 FEET JUMP
Aside from the fact that they're literally throwing people out of planes, Skydive Auckland has some unique selling points. Skydive Auckland offer the highest tandem skydive in the Southern Hemisphere, so if you're after that 20,000 feet above ground rush of exhilaration and an experience you will never forget, Skydive Auckland is your team.
On top of that, they also run the New Zealand Diploma in Commercial Skydiving, the only qualification of its kind in the world. Skydive Auckland work with drop zones around the world and provide them with work-ready staff who can hit the ground running. Lockdown didn't hold the team back, with the school continuing to run throughout the year. Some students formed a bubble and lived on site while others connected in through Zoom.
The award-winning company launched in December 2011, following the success of sister company Skydive Taupo, and are based at Parakai Airport, west of Auckland.
From a whopping 744 entries across the Auckland region in this year's Awards programme, it was clear that businesses were looking for something to celebrate and involve their teams with. Aside from coming out on top among the plethora of entrants, Skydive have seen additional benefits come out of what has been a very different year.
Traditionally 66% of the company's customers come from overseas. In true Skydive style, that hasn't stopped the team from moving forward.
"We have always had a strong focus on the domestic market as well. This is really good opportunity to strengthen domestic in general and then when the borders open – well that can be the cherry on top!" says Jo.
"We want to make our presence stronger, while keeping in touch with the overseas agents. I'm talking to those overseas at the moment it feels like everyone is already planning trips to New Zealand. It seems like the whole world seems to want to come to New Zealand right now!"
COMMUNITY CONTRIBUTION
Becoming a finalist in Excellence in Community Contribution at this year's Awards was a no-brainer given one of Skydive Auckland's major growth areas is with charities. The last financial year has seen a 65% increase in charity jumps. The concept uses a free jump as an incentive for people who raise a certain amount of money for a charity. They then all come together to jump at an event; yet another incredible way Skydive Auckland has a positive impact. Not only that, but the company is the only official Skydive for Charity platform.
In June, Mercy Hospice hosted Leap for Life; in July, Red Cross NZ hosted Jump!; and in August, SPCA ran Jump to the Rescue.
"The SPCA has been doing it for years, growing year on year. 2020 was amazing. I think everyone was sick of lockdown and just wanted to jump. Charities have really suffered the last few months and something like this is such a valuable thing for them."
Always looking forward, Skydive Auckland have plans to push their Charity platform further.
"I think there is so much more room for growth, so much potential…" says Jo. Watch this space!
Many of Skydive Auckland's other customers are families. There is no age limit, and they have a large plane which allows whole families to jump together. Birthdays, stag parties, and people ticking of their bucket lists or wanting to overcome a fear make up some of the others. Anyone from ages seven to 97 have jumped and Skydive Auckland also caters for people who are paralysed through a special harness.
Other customers are sport skydivers or come to learn as a hobby. It makes for a unique and interesting experience with so many different levels of activity going on. A bonus? It keeps things interesting for staff (not that jumping out of planes isn't interesting enough)!
WHERE TO NEXT?
The team will be heading to the Westpac Auckland Business Awards Best of the Best Awards in April next year, joined by the winners or the Central and South & East regions. Knowing Skydive Auckland, by the time the Gala comes around, they will likely have achieved even more soaring feats.
While overseas visitors will eventually return, in the meantime between awards, charity and non-stop fun, Skydive Auckland is still flying high.